ClockWatch Star Sync
Portable GPS Receiver
Compact 20 Channel GPS Receiver Designed to work with Star Sync GPS Software!

Small light and portable - attaches easily
PC Powered - gets it's power from USB port
High Tech - 20 parallel channel receiver with SiRF chipset
Non-dedicated - can be used with other GPS NMEA based applications
Accurate - Highly accurate and precise location and time

Also available: standard duty and heavy duty receiver

The cookie sized receiver with integrated smart antenna is small, light weight and portable. When used with Star Sync software, it keeps a computer (laptop, desktop or server) set to the exact time from GPS satellites.
This receiver design utilizes the latest technology and high-level circuit integration to achieve superior performance while minimizing space and power requirements. The GPS Receiver employs a SiRF chipset. SiRF is a leader in GPS components, supplying Garmin, the US Government and others.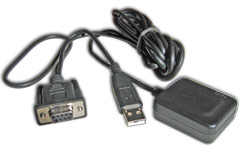 The Star Sync receiver is housed in a black, water-resistant case and designed to withstand normal operating conditions. While simple to install the minimum installation must clear view of the GPS satellites. Internal memory backup allows the receiver to retain critical data such as satellite orbital parameters, last position, date, and time. The Star Sync GPS comes with a nine-foot interface cable, with a DB9 serial data connector and USB power cord.
The Star Sync GPS receiver and can be mounted indoors or out. The housing has a built-in magnetic mount.
Performance
Receiver:

Differential-ready 20 parallel channel receiver tracks and uses up to twenty satellites to compute and update a position.

Acquisition Times:

35 seconds warm (all data known)
42 seconds cold (initial position, time and almanac known, ephemeris unknown)
5 minutes Auto Locate (almanac known, initial position and time unknown)
5 minutes search the sky (no data known)

Antenna:

Physical

Single construction integrated antenna/receiver
Weight: 115 g, including cable
Size: 42 x 35 mm and 15 mm in height
Integral magnetic mount

LED

Blue blinking LED when GPS is fixed

Environmental

Operating Temperature: -40°C to +85°C
Storage Temperature: -55°C to +100°C

Interface

RS-232 (DB 9-pin male serial port)
Port parameters: 9600 baud (8,1,n)

Power

Input Voltage

3.3 to 5 VDC
USB (type-A plug) power cable (included)
Typically draws 62 mA @ 5 VDC

Backup Power

Internal battery, recharges during normal operation, allows fo fast time to first fix (TTFF)


Star Sync Product Information:
Advanced Features
Installation Information - Installation Video
Antenna Mounting Options
Frequently Asked Questions about GPS
Index - Troubleshooting