Because they're WAAS capable, these receivers can provide time accuracy without the use of an external DGPS beacon receiver. They also offer excellent EMI/RFI performance for easy integration into server rooms or nearby wireless communications equipment.
Also available: GPS receiver with integrated antenna
The receiver design utilizes the latest technology and high-level circuit integration to achieve superior performance while minimizing space and power requirements.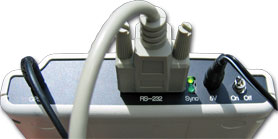 While simple to install the minimum installation must provide a source of AC power and a clear view of the GPS satellites. Internal memory backup allows the receiver to retain critical data such as satellite orbital parameters, last position, date, and time. The Star Sync GPS comes with a six-foot interface cable, with a DB9 serial data connector and external AC power supply.
The receiver connects to an active antenna which can be mounted at a distance from the receiver inside or outdoors.