ClockWatch Radio Sync allows you to test to see if the program is able to communicate with the WWVB receiver's data port through the computer's serial port. After the connection to the receiver is opened, the test screen shows the raw data coming from the receiver, displays the information parsed from the raw data, and shows the current readability of the broadcast.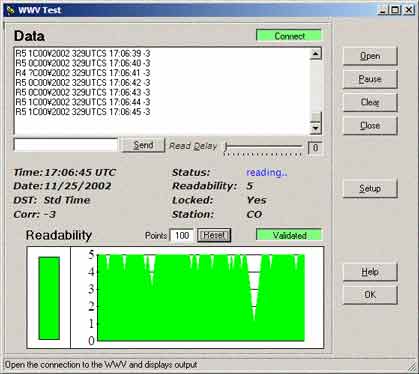 The WWV test screen is useful in verifying that
1) Receiver is working,
2) the cabling is correct, and,
3) the location and orientation of the antenna is correct.

Data Window
Shows the raw data coming from the when the connection to the WWVB receiver is open.
Send field: send a command to the WWVB. After connection is made commands can be sent to the WWVB to query for information.
Read Delay: To slow down the test screens sampling rate of the WWVB, slide the control to the right.
Time: time from the WWVB (in UTC)
Date: date from the WWVB (at UTC)
DST: Shows current daylight saving time status in the USA. Displays "Std time" if DST is not in effect, "In effect" if DST is currently in effect.

Corr: UT1 correction (+/-.1 second increments). Correction (in tenths of a second) from sidereal time. Of interest to astronomers.
Status: Current WWV status when connection is open. Status message include "OPENING PORT", "AWAITING VALIDATION", "reading", etc.
Readability: Signal readability from 1 to 5 (1 is unreadable, 5 is good). Readability is the best indication of relative signal strength.
Points: Number of readability points to show in chart (range of 1-3800).
Locked: Indicates if receiver is currently phase locked to WWVB or blank if unlocked (indicting poor reception)
Station: Currently receiving from broadcast from Colorado (CO) or Hawaii transmitters.
Readability Chart
Bar Value:
Shows a map of current readability (1 is unreadable, 5 is excellent). Shows Green when validated, red when validating.
Chart box: Shows readability readings.
Y Axis – readability (1-5 scale)
X Axis – successive readings over time