ClockWatch Enterprise Technical Specs
How Does it Work?
Technical Specifications
---
How ClockWatch Enterprise works
Following is a summary of the steps ClockWatch Enterprise performs when a time check is made: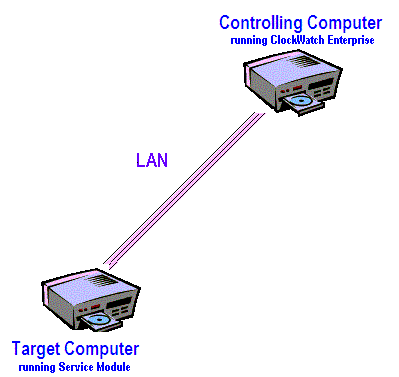 ClockWatch Enterprise is started.
A command is initiated by either:
- User presses "Start" button
- The alarm time set in the Once or Daily mode goes off.
ClockWatch Enterprise contacts the individual client running the Enterprise Service Module by making a TCP/IP connection over the LAN.
The client returns its current time.
ClockWatch Enterprise checks to see that the string returned is valid.
ClockWatch Enterprise converts standard time to local time and compares it to the internal system time on the computer.
If the time difference is within program thresholds the time adjustment is made on a subsequent time set. A summary of the action is written to the log file.
System Requirements -host computer
Windows 95/98/Me, Windows NT, Windows 2000 or Windows XP
LAN connection to clients
Install ClockWatch Enterprise for client monitoring and/or control
Install ClockWatch Pro for external time synchronization (optional)
System Requirements -client computer(s)
Accuracy
Sets client clocks within +/-0.1 second of ClockWatch Enterprise.
Network Connection
Uses a WinSock connection for communication.
The local TCP port used for the connection to a proxy server is user selectable.
ClockWatch Enterprise Server and ClockWatch Enterprise Client typically use port 1001 to communicate.
Optional configuration (for remote device control):
ClockWatch Enterprise main page
Network Time Synchronization
Remote Startup (WOL) and Shutdown