Performance.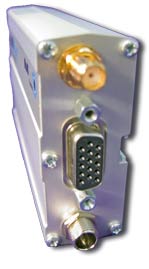 A microcomputer processes CDMA signals, maintains an accurate real time clock and hosts the serial communication interface. Received data is correlated over time to set an internal real-time clock (RTC). The RTC is driven by a precision quartz crystal for continuous accurate time reference.
Industrial chassis. The MultiModem CDMA is
packaged in a rugged, industrial chassis with an SMA
antenna connector. It can be desktop or panel mounted
and features numerous LEDs providing operational
status. It has a DE-15 Data interface and permanent screw-type power connector.
Network and RF approved. The MultiModem CDMA
is CDG 1 and 2 certified. In addition, it has successfully
completed worldwide compliance testing for global RF
approval.