Beagle Software's free Broadband Monitor lets you quickly tell if your broadband connection is working. By running regular checks you can tell if your connection is up and if your connection speed is normal. It can run in the background (in the system tray) to monitor your connection.

Latest improved version included in

ClockWatch

.

Latest version has improved error detection, alarms and logs results to a file.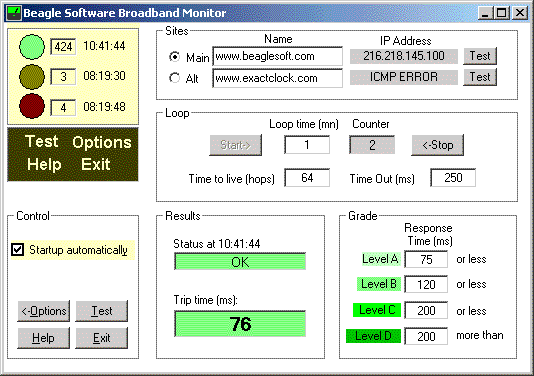 Features
Checks broadband connection by pinging remote Internet sites.

Shows the relative connection speed with a 4 level grading scheme.
Small, light
application runs in the system tray.
Can also be used to monitor LAN/WAN connectivity or to monitor a specific computer or web site.
Ways to use the Broadband Monitor
Broadband Monitor can monitor your broadband connection to insure that the connection is active and that you have currently have access to the Internet. Use this quickly to tell if you're up and running. Broadband Monitor is great for checking wireless connectivity.
Instead of checking Internet access you can check to see that your wired or wireless LAN is working. Just specify one or two computers on the network to monitor. As long as the indicator is green, the connection is OK.
Broadband Monitor can be used to check if a specific web site or computer is up and responding to pinging.
Options
This form is the main screen for setting or watching the connection tests.

Main Indicator
Shows the results of the last test (green=pass, yellow=failed last test, red=failed repeatedly), the number of times each test result has happened and the time of the last test result.

Sites Section
Web sites or computers used to verify connectivity.


Loop Section
Tells how often to check the connection. The test uses Ping to test the connection and measure the connection speed. More about testing…
Test Results Section
Shows the results of the communications tests.
Grade Section
The grade section allows you to color code the results of the successful test. The speed of the response can be compared against 4 different levels, each identified with a shade of green. Remember that lower numbers indicate a faster connection.


Control Section
Download the Broadband Monitor Free Utility
Broadband Monitor

Latest version, v 1.2.0, is included with

ClockWatch

Time setting utility

ClockWatch
for Windows 2k/2003/XP/Vista/Win7/8 :
Self-installing executable.
Application only. total size: 250k
version 1.0.0
BBmonitorXP.exe
for Windows 98/Me/NT:
Self-installing executable for
Windows 98, Me or NT
Application + supporting DLLs. total size: 1.4MB
version 1.0.0

BBmonitor98.exe